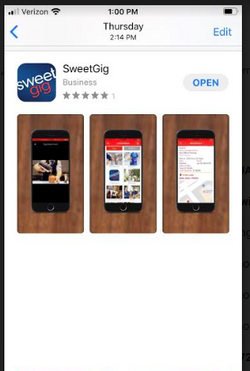 STEP 1
Begin by downloading the app in Google Play (Android) or the App Store (iOS):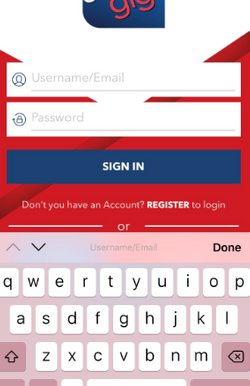 STEP 2
Click "REGISTER to login" directly under the blue SIGN IN button.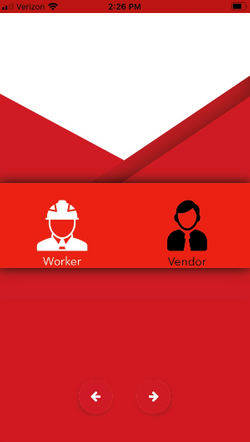 STEP 3
Select Vendor since you're an employer looking to hire workers.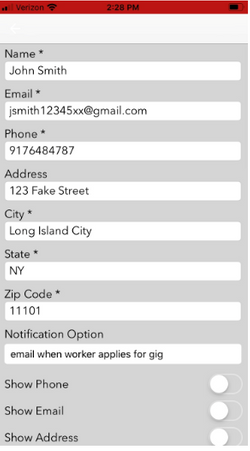 STEP 4
After selecting "Vendor," you'll be brought to the Company Profile screen. This is information for your company, not the job your posting. You'll fill in additional information about the specific job later. Don't worry, at the bottom of the screen you can control how much information you want to make public about your company.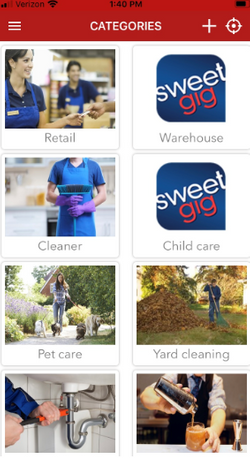 STEP 5
After creating your Employer Profile, you'll be taken to the Categories screen, where you can search for workers by Industry if you're a returning user or post a new job if you're a new user. To post a job, click the " + " sign in the upper right-hand corner.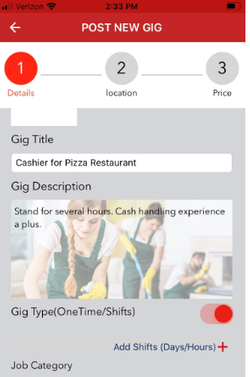 STEP 6
Fill out the details about your new Gig. Enter a Title of the job you'd like to Workers to see when searching for a new job. You can also enter any relevant details about the job.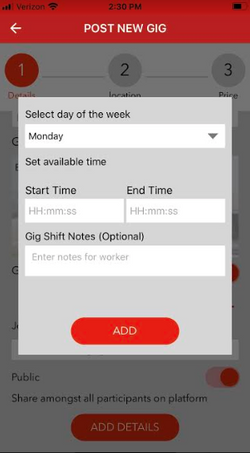 STEP 7
An important additional feature on this screen is the "Gig Type" feature. Selecting "One Time" is for a per diem job. Selecting the "Shifts" option will allow you to enter the precise hours of the job. To enter the days and hours of a job, click the red "+" symbol next to "Add Shifts (Days/Hours). Once you click the "+" symbol, you'll be taking to the following screen where you can select the days of the week and the hours of the shift on each particular day.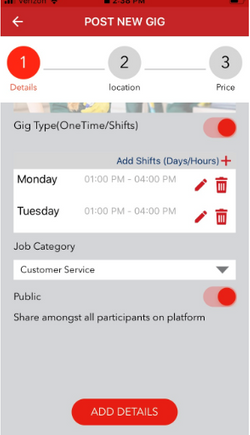 STEP 8
Continue to click the red + sign each time you want to add a shift. Below is an example of what the screen will look like when you add a shift on Monday from 1:00 pm to 4:00 pm and a shift on Tuesday from 1:00 pm - 4:00 pm. Additionally, I selected the job category of "Customer Service."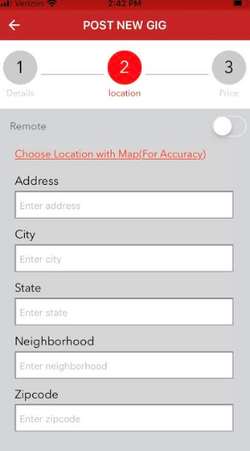 STEP 9
After clicking the "ADD DETAILS" button, you'll be brought to the Location Screen. Here, you can list where the job is located. You can either manually enter the information OR select "Choose Location with Map (for accuracy).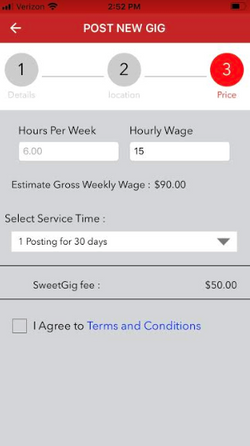 STEP 10
The final screen will auto-populate the Hours Per Week, based on what you previously stated. You'll manually enter the Hourly Wage. The app then auto-calculates how much the Gross Weekly Wage will be. Under "Select Service Time," you select how long you want SweetGig to list the job for you. There are several options to choose from. Depending on your selection, the listing length will determine the price. For example, below, I selected 1 Job Posting for 30 days, which cost $50.00.